Who Got What At Our Favorite Awards Event Of The Year !
This is by far our favorite evening of the year, the InStyle awards. The event that is in its third year honors celebrities on and off the red carpet for their work in fashion and style.
This year's honorees included names that we can all agree have inspired us, both in business and perhaps more importantly on a personal level. Well they certainly didn't disappoint with their speeches and accolades last night. CIIN gives it to you in a nutshell.

Style Icon of the Year - Cate Blanchett

C


We can all agree that there is no one consistently more glamorous that Cate Blanchett. In her acceptance speech last night Cate dressed in Givenchy and covered a number of bases. She thanked the designers that have helped with her style, Stella McCartney and Nicolas Ghesquiere, and then specifically thanked Giorgio Armani for their long standing fashion partnership.

---
Style Star - Zendaya
It feels like yesterday that Zendaya was bopping up and down on some Disney TV show. Today she is an accomplished actress with great fashion sense on the red carpet. Dressed in Schiaparelli couture and a dramatic afro, she was as always a vision of sophistication with a playful twist.

---


Breakthrough Star Style - Elle Fanning
Well the word breakthrough says it all, we will be seeing much more of this young lady soon. The 19 year old, dressed in a Versace Spring 2018 dress straight from the runway, was emblazoned with images of Marilyn Monroe. As for the young actress' speech it included a nod to Big Bird, understandably…

---


Designer of the Year - Pierpaolo Piccioli
Valentino designer Pierpaolo Piccioli hasn't had the easiest time since he went solo at Valentino, after the departure of his co-designer Maria Grazia Chiuri to Dior. In retrospect it is clear that it is Maria that brought the PR punch to Valentino and now to Dior. That's not saying Pierpaolo is any less talented just quieter, and you know how tough that is in the fashion world. We are for this reason thrilled for his most recent accolade.
---


Stylist of the Year - Petra Flannery
Petra Flannery is one of America's most accomplished stylists. Earning the title of 'most powerful stylist' in 2014 by the Hollywood Reporter. Her remarkable work this year with Emma Stone is certainly deserving of this 2017 InStyle award. One of the most demanding parts of a stylist's job is working under considerable pressure for long periods of time. Emma Stone's numerous nominations for her movie La La Land must have been both enthralling, challenging and certainly exhausting…

---


Advocate Award Winner - Demi Lovato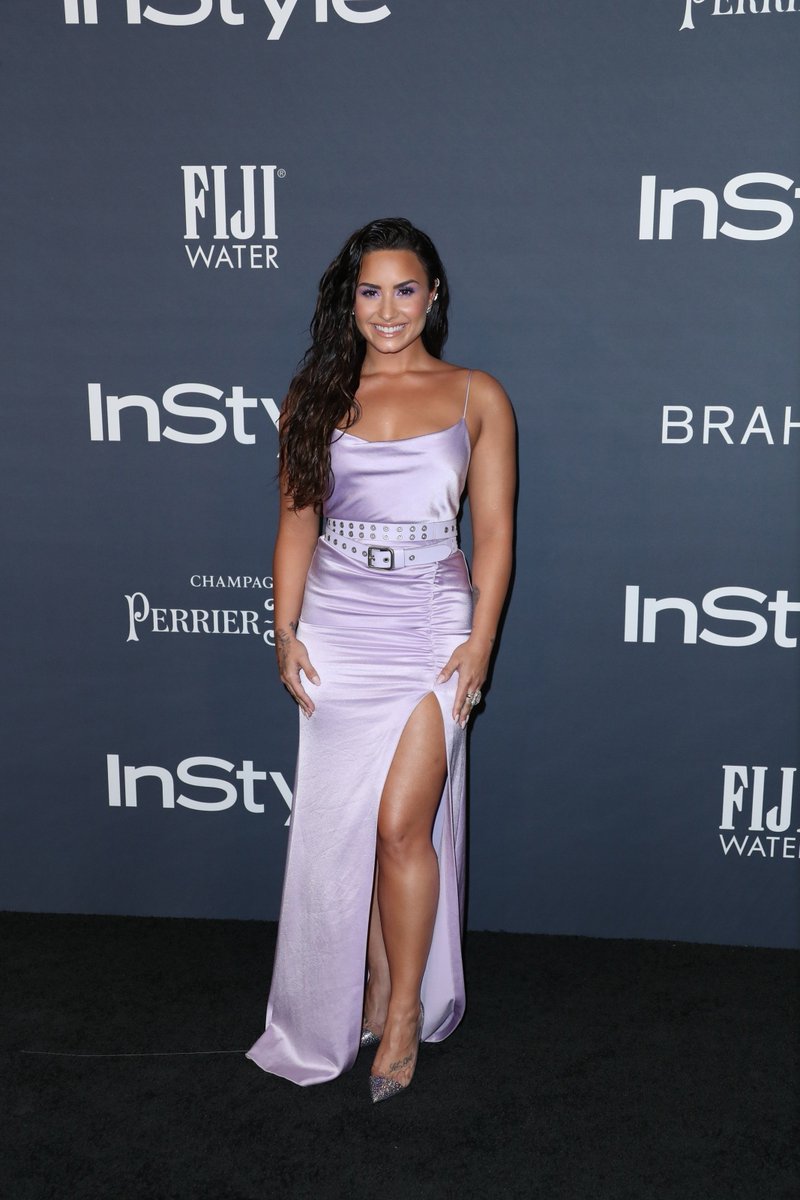 This must be the most impressive award of the year. Demi Lovato dressed in Alice & Olivia, has been battling her own demons for years for her to be able to rise and be recognized for her contributions in the mental health arena is impressive. The Advocate award nomination followed Demi Lovato's appointment as the Mental Health Ambassador for Global Citizen. In her role she will be working with refugees in Iraq, using art as a form of therapy.
---


Makeup Artist of the Year - Hung Vanngo
Selena Gomez dressed in Jacquemus, has been a client of Hung Vanngo for years now, no better a person to award him the prize and say a few words than Selena herself. "Hung came in and he just radiated passion. And I think that sometimes it can be a little hard to remember why you do what you do and to be passionate about it," Gomez said during a speech. "He doesn't pay attention just to the details of what he's doing to somebody, but he cares about how they feel and how they wear it and [he] works so hard at being on time, caring what other people feel, what other people are doing, and if everybody on the same team, and I just think that's really really special."
Hung in return had great things to say to Selena, which defines why we love InStyle awards, they go beyond fashion and delve into emotions and what really matters.
---


Hairstylist of the Year - Harry Josh
Last but not least, Harry Josh is THE hair guy, world famous for Gisele's beach waves, the hair stylist was introduced to Kate Bosworth over a decade ago. Dressed in Alexandre Vauthier, Kate awarded him the trophy. The rest as they say is history… As we are pretty sure if you look up beach waves on Google a pic of either Gisele or Kate Bosworth will appear. The actress had heartfelt things to say "Harry brings much more than just precision to his cuts or beach to his waves. He is a creative in every sense of the word. He always knows what will make you feel confident, and Harry has an amazing ability to empower women and to give them the tools to look their best."

---