The Paris Fashion Week Round Up
Fashion is always about moving forward, and this Spring 2018 it was interesting how this was achieved.At Balenciaga, Demna Gavasalia the current bad boy of fashion actually said he was sick and tired of being inspired by Christoble Balenciaga and when out to create his over version of Balenciaga.Streetwear is what he came up with, similar of course to his Vetements brand.What was particularly interesting were his newspaper pieces, emblazoned with fake news.Photos of happy people and dummy text creating a more cheerful existence.
Speaking of happiness, Giambattista Valli won the award for most cheerful show for Moncler Gamme Rouge.Ballerina dancers wormed their way onto the dance floor to the beat of Ed Sheeran's 'Shape of You'.Every few minutes the dancers would stop making way for the actual clothing.Given that the show was one of the very last, the cheerful mood was a welcome respite from a grueling schedule. To watch the video, click here.
As for actual clothing, the heroes of Paris Fashion week were undoubtedly Balmain and Louis Vuitton.Both Olivier Rousteing and Nicolos Ghesquiere broke their own rules with collections that were thoroughly modern and new to the brand.Olivier's personal homage to his childhood was inspired by the fashion greats, Coco Chanel tweeds, Yves Saint Laurent inspired pieces in addition to some bleu-blanc-rouge feathery pieces to add to the celebration.The venue for the Balmain show, the Palais Garnier was the location at which at the age of ten a young Roustieng found his calling.As for Nicolas Ghesquiere for Louis Vuitton the collection was a lesson in women's fashion evolution, with Marie Antoinette style jackets and bra tops matched to modern day street wear.The highlight of the evening of course was the 'Stranger Things' groupie t-shirt that was layered over a period printed blouse.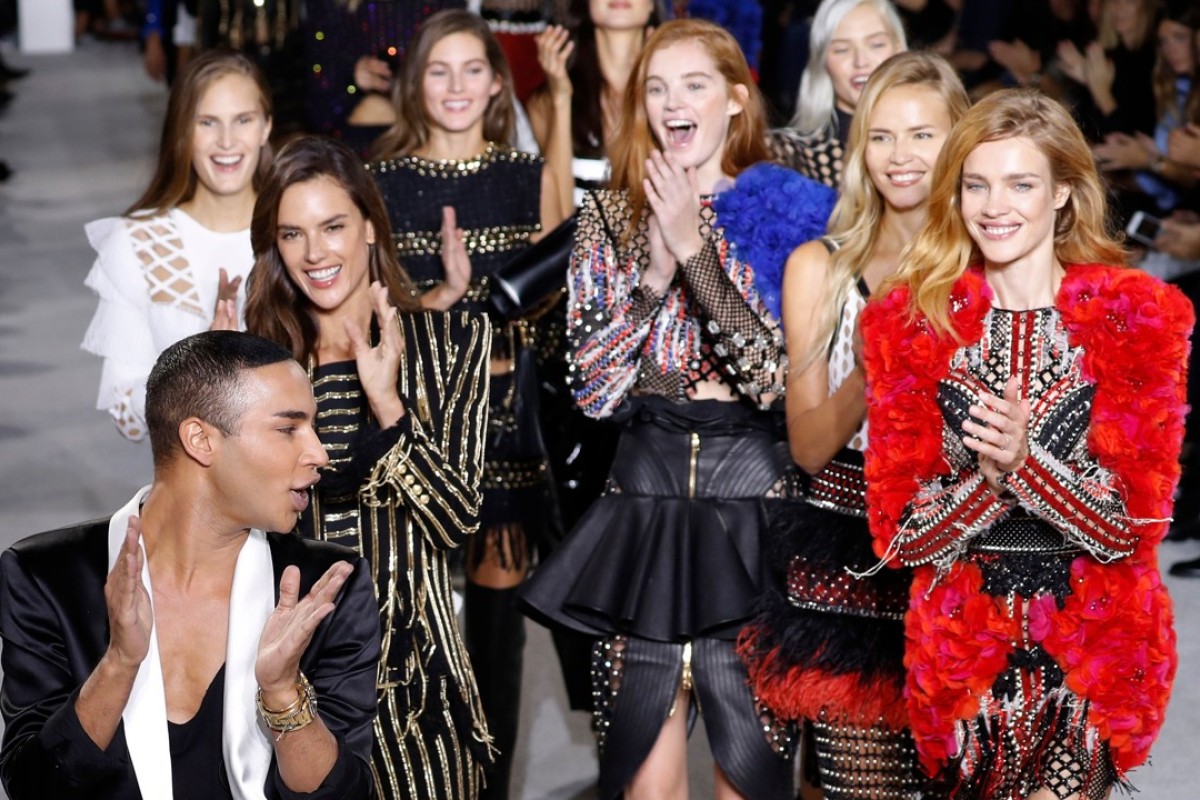 A close third on the collections front was from Julie de Libran for Sonia Rykiel.Julie always manages to take the Parisian brand and spin a very trendy voile around it.This season the presentation at L'Ecole des Beaux-Arts was a culmination of her three years at Sonia Rykiel.
As for Karl, his Chanel inspiration took us back to nature, with the recreation of a nature scene from the South of France created inside the Grand Palais.So real that attendees swear there was a breeze coming from the manufactured waterfalls.Not one to philosophize about his collections, it was clear that Karl was taking us back to Mother Nature, a return to simplicity and beauty.As if Mother Nature herself was applauding the collection, an actual rainbow appeared against the waterfall once the sun came out…

Well as far as locations go, the Saint Laurent show could not be beat, at the steps of the Eiffel Tower.As if choreographed, at times the lights of the tower danced insync with the show's music.The collection, created by former Versus Versace designer Anthony Vaccarello was an homage to the Maison of Yves Saint Laurent.The upbeat and hip presentation a typical reaction to the dire state of international political affairs.At this point the world was reeling from the devastation caused in the Dominican Republic (as Donald Trump retreats from the Climate Change Agreement) , the Las Vegas shooting hadn't happened yet, nor the senseless killing in Marseille…
---