The 10 Best Essential Oils For Busting Eye Wrinkles
This is to all women who want to age slower and look younger on a consistent basis… A.K.A. all women on this earth.. Essential oils play a major role in our lives, due to their organic nature, availability and raw nature their uses are very broad and efficiency due to their potency is quite noticeable.. Helping to combat aging of the skin is our subject matter today!
One of the most obvious places where wrinkles start to develop, is the area around the eyes, those usually start out as fine lines and tend to deepen with time. Because this skin is very thin, it easily absorbs anything that is applied on.. Using essential oils in that area makes them miracle workers for under eye wrinkles for their powerful properties! To mention a few; essential oils are anti-oxidants, anti inflammatory, Astringents, Cell Regenerators,Collagen Boosters,Skin Nourishers,Blood Circulation Stimulants… Need we say more?
Below are some of the few essential oils for under eye wrinkles that you can safely use.
1 || Jojoba Oil
Cheers to the most hydrating and non-oily oil in the entire world..!Jojoba contains vitamin E, vitamin B complex, silicon, chromium, copper and zinc. The iodine in it gives jojoba oil its power to heal. It plays the role of sebum and moisturizes our skin and hair when our body stops doing it naturally. The antioxidants present in jojoba oil soothe fine lines, wrinkles and naturally slow down other signs of aging. Another benefit ofthis glorious oil is that it stimulates collagen synthesis.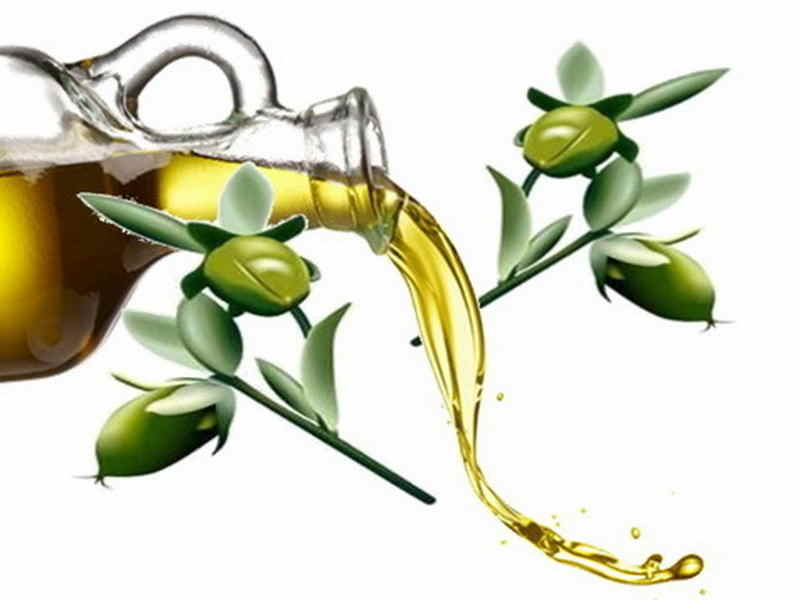 ---


2 || Pomegranate Seed Oil
Pomegranate oil is considered part of the potent natural treatment for skin cancer, and it has been used throughout history for its many benefits, particularly with anti-aging, and the most powerful form of this potion is its oil. Known for its dark red color - which are particles called bioflavonoids- this dark color protects your skin from sun damage. If you ever go outside and get a sunburn, apply pomegranate seed oil on your eye area, it has a natural SPF and can actually be used as a natural sunblock and sunscreen.

---


3 || Frankincense Oil
Frankincense essential oil is a powerful astringent. The oil can be used anywhere where the skin becomes saggy such as the abdomen, jowls, or under the eyes. If you mix 6 drops of oil to one ounce of an unscented oil like jojoba oil and apply it directly to the skin it will surely help tone and lift skin.

---


4 || Lavender Oil
Due to lavender oil's antimicrobial and antioxidant characteristics, when mixed with benefit-rich aloe vera or coconut oil, it has shown to have a profound benefit on your skin. Try mixing lavender oil with frankincense essential oil and put it on your skin first thing in the morning, right after you shower and right before bed. You will enjoy tight looking area around the eyes..

---


5 || Sandalwood Oil
With a warm, woody and musky scent, sandalwood essential oil smells absolutely gorgeous when blended together with coconut or sweet almond oil. When massaged on mature skin and under-eye wrinkles, it stimulates blood flow, plumps up skin and removes fine lines.

---


6 || Neroli Oil
A savior when it comes to sensitive and easily irritated skin, neroli essential oil is very soothing for problematic mature skin and a delicate under eye area. Enjoy its uplifting aroma !!!

---


7 || Geranium Oil
Geranium has the most beautiful feminine scent and it's excellent in reducing puffy under eye skin, fighting wrinkles and well as keeping skin smooth and supple.
---


8 || German Chamomile Oil
Another champion when it comes to wrinkles and mature skin, german chamomile essential oil reduces puffiness, has powerful anti-oxidant properties, soothes sensitive skin and helps smooth under eye wrinkles.

---


9 || Carrot Seed Oil
This beautiful pale orange oil, carrot seed essential oil doesn't just give skin a golden tan but also promotes smooth, supple & soft skin, rejuvenates mature skin and lubricates under eye skin.

---


10 || Rose Oil
This romantic essential oil not only has the most luxurious scent in the world but also deeply nourishes under eye skin, improves skin elasticity and evens skin tone.

---