And The Real Winner At The Golden Globes Is ….Empowerment!
This was not the first time, nor will it be the last, when celebrities take to the red carpet to stand up against injustice. The Golden Globes red carpet was painted black this January 7th as actresses showed solidarity with the Time's Up initiative to take a stand against sexual harassment and gender inequality in and outside of Hollywood. However, actresses didn't settle for wearing black as a statement; they took it steps further to empower, expose and have a moment of solidarity like never before. The Golden Globe win for Big Little Lies - a series exposing sexual abuse and celebrating women empowerment - is only the beginning.

Oprah Winfrey's presidential-like speech as she accepted the Cecil B. DeMille Award, struck many cords and emphasised that the power imbalance between males and females is not a problem limited to the entertainment industry. She asserted that this is a universal problem that transcends all differences and sadly prevails. However, we are all moving towards a new safer and more equal world, she stressed.
"For too long, women have not been heard or believed if they dared to speak their truth to the power of those men. But their time is up," said Winfrey. Oprah for president is another campaign we should expect to see more of in the days to come. Watch Seth Meyers joke to Oprah about that at the Golden Globes,
And to take the gender parity problem beyond the gates of Hollywood we saw many celebrities such as Meryl Streep, Emma Stone, and Emma Watson among others, escorted by their high-profile activist dates to the event. Emma Watson showed up wearing Marai Marasi on her arms. Marasi is the Executive Director of Imkaan, an organisation aimed at preventing violence against black women. Meryl Streep came with Ai-jen Poo, Director of the National Domestic Workers Alliance, while Shailene Woodley invited Calina Lawrence, a water rights advocate.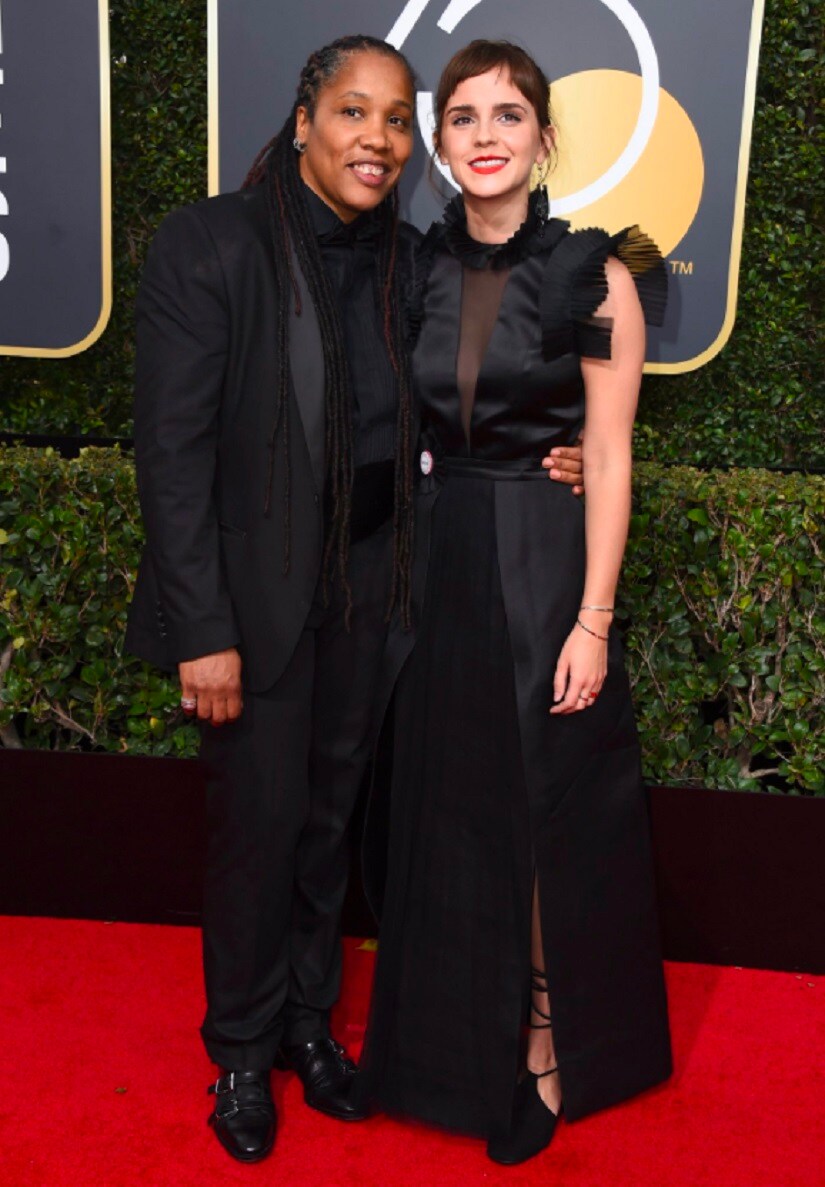 More on the subject of gender inequality, Debra Messing, when interviewed, took the chance to talk about Times's Up and to point out that she was shocked to learn that E!'s staff suffer from a gender wage gap especially after the incident where Catt Sadler left the network after discovering her male co-host earned double her salary!
Natalie Portman didn't miss a beat when she took to the stage to announce the Best Director winner. She also took the opportunity to announce the obvious; that not a single woman was nominated for Best Director category, "And here are the all male nominees" she said before reading out the names. Portman was later criticised, as it was felt that Portman's comments had taken the joy out of the achievement for the winner, in this case Guillermo del Toro for "The Shape of Water". Barbara Streisand emphasised this point as well when she later pointed out that she was the last female to receive a Golden Globe for best director when she won for "Yentl" in 1984. Watch here,
Another memorable moment which was not properly highlighted was Sterling K. Brown's win at the Golden Globes; which basically makes him the FIRST black actor to win Best Actor in a TV Drama at the Golden Globes. The 41-year-old actor won for his role on NBS's hit show This Is Us. He was shocked to find out that in 75 years of the award he is the first.
It was also noticed that many of the celebrities adorned their black gowns with dazzling emeralds. Surely emeralds work great with black, or any other color for that matter, but in this case wearing emeralds was more of a solidarity statement than it was a fashion one. Emeralds are a symbol of hope and the future, and they are said to inspire "an ongoing search for meaning, justice, and compassion". Stars such as Zoe Kravitz, Debra Messing, and Ashley Judd were all wearing emeralds.

On a final and lighter note we should also salute Kendall Jenner for striking back after being shunned for her acne. The supermodel didn't allow some breakout to put her down, in fact she strutted her stuff and showed up at the Golden Globes, on behalf of Vogue to support the Time's up Initiative in a breathtaking black gown. She shut down her criticisers with a tweet that said "never let that sh_t stop you!"

---