A Date With Claudia Schiffer And A Lesson In Life!
Some 30 years ago, who would have ever imagined that the world was without Claudia Schiffer, back then destiny had a blind date with now supermodel Claudia, that's when life played a completely different game with Schiffer, the rest is history, literally..
The journey from a shy teenager to a worldly icon has so much intrigue in its folds and we cannot but celebrate this fashion world's super figure who is currently preparing to release a new retrospective book, a footwear collaboration and finally a beauty line..
The beginning of her life long career was as simple as a night out at the town, living in the suburbs of Dusseldorf , back then shy Claudia had the obligation of entertaining some visiting relatives of her family and the city's number one nightclub'Checkers' was their ultimate destination, "And that was the rest of my career," Schiffer says now. A model scout -who wasn't even supposed to be in the club that night- had his eyes allover the 90's beauty channeling blue eyeshadow and blushed cheeks dancing her night away!
With all the drink and drugs and rock'n'roll raging all around her in the modelicious world Claudia was immune, starting her career at the age of 17 in 1987 Claudia had to comment;

"It never came close to me," says Schiffer. "I didn't like the taste of alcohol, it was bitter to me. Peach juice was much better. I had my first taste — a glass of red wine — in my late 20s and I thought. 'This tastes good'. If you think of all of these things in this crazy world, how was it even possible for 30 years? There must be someone up there on another planet and they were put on this earth and it's like 'I'm going to look after this one'. And I totally believe that."

Claudia goes further to admit that her high level of shyness was defeated by her challenging reality,

Without modelling "I'd probably still be a very shy person who had no idea I could overcome that by experiencing many things. I would probably be in a job where you can be in the background, in a bank, or behind the scenes. Modelling was my therapy. I learned how to communicate, how to be with people, and of course, having success within something."

Modelling was more like a mission to Claudia, many obstacles slapped her in the face and she admits that this kind of industry needs super thick skin to overcome the many lowdowns and competition it presents.. Guardian angels alongside a little dose of arrogance were Claudia's recipe for success!

"Yes, it's a tough, tough business if you're sensitive. You have to have super thick skin. You walk into the studio and people are talking behind your back and you can hear because they're not even trying to be polite, because they don't give a shit if you can hear them, and they're pointing out everything that's wrong with you. And then you're booked and you're cancelled and your friend gets the job. But for some reason, I've always had this weird arrogance that I'll be fine, I'll get something else. There's only the competitiveness. 'She got that, how can I get it next time? How can I beat everyone?' That was all the '90s girls. When we saw each other, it was all let's party and be friends but behind the scenes, it was 'How can I book that?' Which in retrospect was great because we were all successful."

Starting her career in times of a polaroid age, Claudia explains how tough a job it was when it came to photoshoots, a single photoshoot that takes a day now, used to stretch to two weeks back then, choosing a photo was much harder, you were never able to see your captures on the spot! And all that called for extra hard work, longer hours, bigger budgets and more commitment.. The photoshoot was simply models, photographers and the designers, the music and acting worlds had no influence on fashion as nowadays, 'IT' girls were purely catwalk models!
To Claudia, scampering up the ladder of success meant longevity.

"I never had an expectation of a long life as a model," she says. "I always thought — and by the way, you were told this — that 30 was the cutoff point. Afterwards, you were told 40, but then it's definitely over. But now I'm well over 40, and so are the other girls. It's nothing to do with your physique. It's to do with if you've made a name for yourself. If you're famous, you've made it to a certain point, and you're able to work longer."

On collaborations, Claudia believes that fashion is her basic instinct..

"Every collaboration I do is an extension of what I know," she explains. "I've been in training for 30 years, I know quality because I've worked with the best. And because I love fashion, I didn't want to do anything else but fashion. That's my world. So I had to look for partnerships where you speak the same language."

As for her makeup collaboration with Art Deco, the company was established in Germany in the late '80s. It's the makeup Claudia always favoured as a teenager. Talk about blue eyeshadow, loads of blush. As a tribute to that time, her range for Art Deco includes a denim palette of four blues, three more than existed back then.

Shoes with Aquazzura? Now we're talking.. The queen of the runways believes in well made feet hugging shoes that simply won't make you fall!
"One thing I'm famous for is I never liked walking the runway unless I was comfortable in my shoes. There's nothing I like less than when a shoe looks beautiful but isn't well-made. Show shoes, in other words. As a woman, you want your foot to be held so you're not falling down. I like the idea of shoes that are hugging."

Working up to the challenge, Schiffer sent designer Edgardo Osorio a crazy mood board of memory — running through the Marais dressed in black, inspired by Carine Roitfeld; floating like a bird in amazing heels, choreographed for a shoot by Richard Avedon.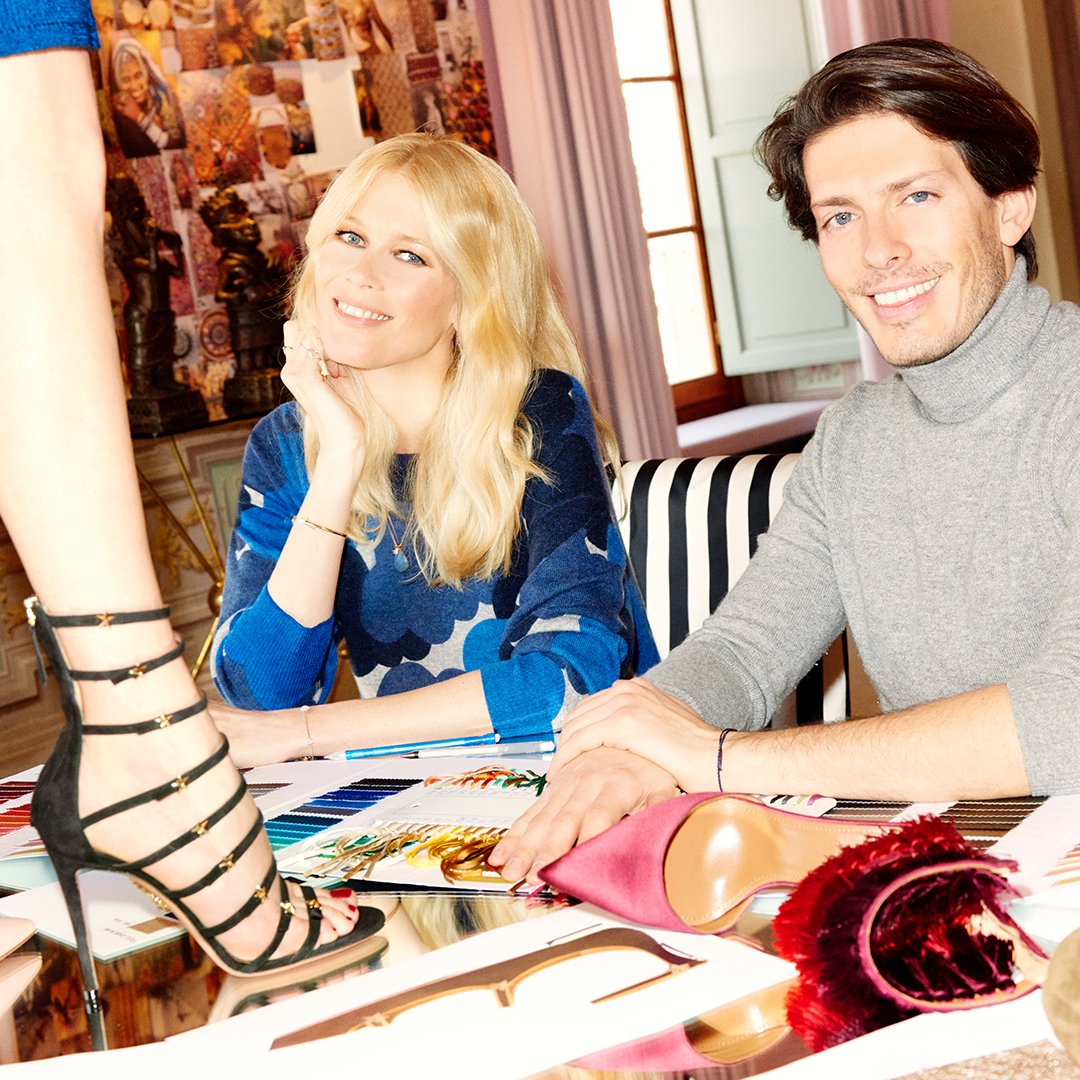 Claudia's got advice!!!
To begin with, Schiffer wasn't the girl boys wanted to date and other girls wanted to be friends with. So she doesn't think of modelling as something one can learn, you have to be a freak of nature. You've either got it or not.
"If my kids were really serious about modelling, I'd be watching over them. You can protect them much better than an agent, who did not protect me. So if you can, have your mum protect you, although it sounds terrible because a stage mum is not great. But I'm thinking protective like a lawyer. I was sent to all these different countries on my own which were not safe, but back then the agent was the booker, they just booked the job, booked you a plane, it was about getting the job done. Now those people are managers and a manager is much more than a booker."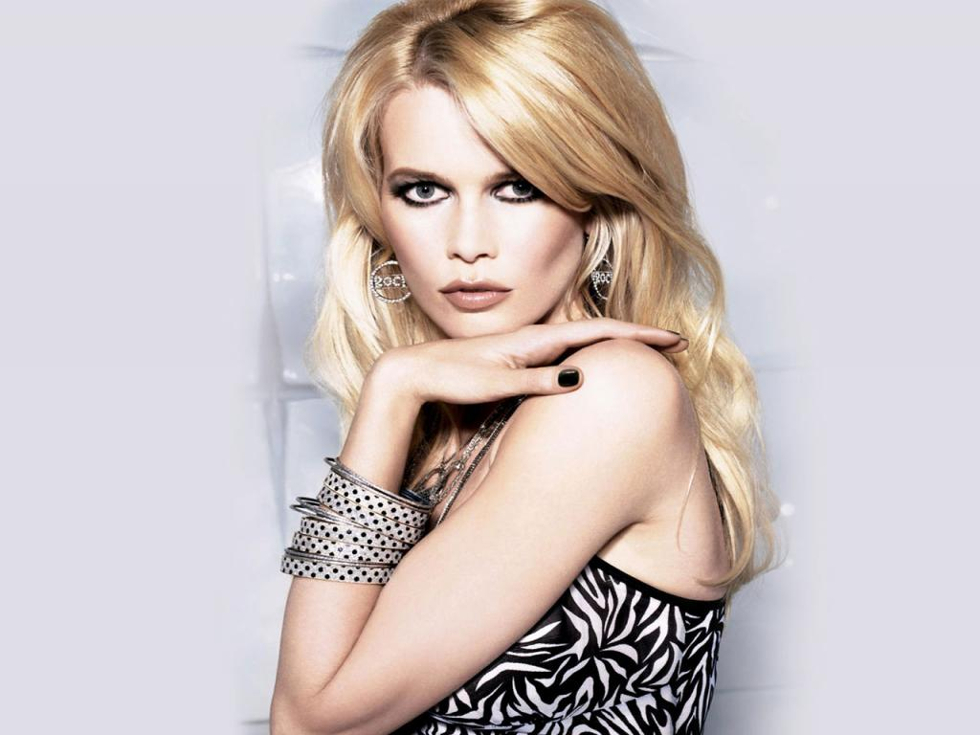 Last but not least, when asked, Claudia sees herself as Clark Kent as opposed to Superman when she was labelled one of the supermodels of all time!
"People don't really know much about me from the pictures in the '90s because of who I was, the shy girl who never revealed much about herself. I'm the same today. It's just not in my nature, Schiffer reflects, I thought it hilarious they would call me a supermodel. I was trying to play Superman but I was really Clark Kent. It's not really me, it's the work I do."

---