6 Original Ways to Personalize Your Winter Look || Guaranteed
Yes we all know that a Prince of Wales blazer is on trend, specifically when matched to a graphic t-shirt.Then there is the red pantsuit that you need to have.The problem is, if we all play by the same rules, where does the uniqueness come in.Fashion is all about individuality, so the trends dictated to us by the fashion world kind of defeat the purpose. CIIN explores 6 ways to personalize your winter look.
1 || Prince of Wales Print
Ok, so menswear inspired Prince of Wales fabric is on trend, 99% of the time it is worn as a blazer because that's how it was introduced. Rock the boat a little by taking this same fabric and wearing it as another piece of clothing. Imagine an evening dress in the fabric, not that would make a splash.You can also consider a pair of shoes or even a handbag in the print. Alternatively try the same print in a different color scheme.
---


2 || The Pant Suit
Everyone wants to be wearing a pantsuit this season, because they told us we needed one.Pass by any store and they will over you at least two varieties on the trend. The truth is that everyone can look good a well cut pantsuit, but very few can pull off a pantsuit of exaggerated proportions. Experiment, try a jacket with a bold shoulder or a pouffy sleeve. Perhaps a particularly wide legged pant. Something out of the norm will work, you just need to take the time to play…
---


3 || Red
Yes red is indeed trending and we all want to be part of the fashionable tribe, to some degree… So how to do red differently ? Try matching it to an unusual color, most people will match their red jacket to a white shirt and black pants (like Santa Claus) or possibly jeans. Why don't you take your red to the next level with some modern color blocking, try matching it to a vibrant cobalt blue or fuchsia pink.Don't cringe, you don't need to wear a red jacket with cobalt blue pants, that's for the super courageous. Do try a cobalt blue turtleneck with your red jacket, or even a belt in an accent color.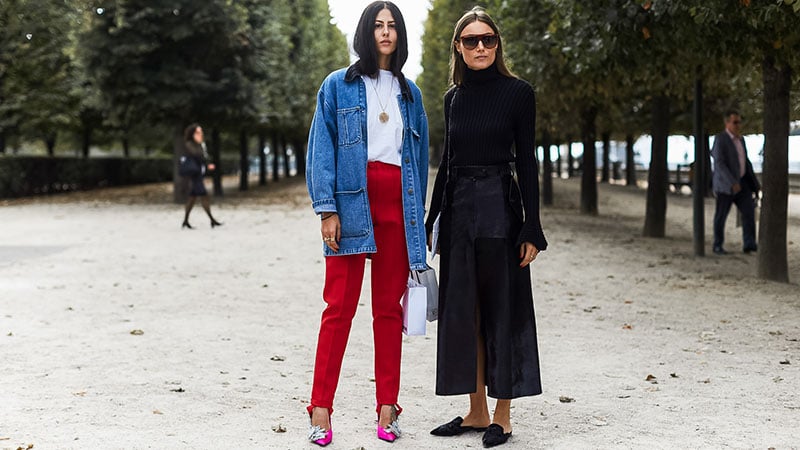 ---


4 || Not So Basic Basics
Ok, so there are some things that we really can't buy 100 of! Namely, your coat, knee high boots and handbag. Those are your wardrobe staples, and for this reason we tend to buy them in a safe color. Walk down a street in winter and nine out of ten people will be in black coats…We understand the importance of buying an item that matches with many things which is why we suggest you give these purchases some thought.
Each of us is more willing to experiment with a specific item than the other… For some they don't mind interesting shoes, others cringe at the thought but don't mind an original coat. Establish what it is that you are willing to experiment with a go for it.Buy those fringed boots, that fuchsia print coat or fluorescent handbag and watch your wardrobe flourish with creativity. One word of advice though, you can't experiment with more than one item, they things get messy!
---


5 || It Doesn't Have to be About the Clothes At All
Some people prefer the timeless route, and are not so keen on rocking the fashion boat. Well, interestingly accessories can make just as dramatic an impact as your loudest coat… You just need to do it with passion. Most of the time we put on a pair of earrings at the very last second with little thought. What if you did it the other way around ? Start with those fantastic earrings that you fell in love with but never got to wear yet ? Accessories often times force you to try a different formula to accommodate the accessory, that is one of the most exciting changes to your wardrobe, seriously…

---


6 || The Silhouette
There are something that are seriously set in stone, silhouettes are one of them. Regardless of how tall, short, creative or alternative you are, some things don't change, silhouettes. An hourglass will always be an hourglass and a wide leg pant will always look best with a fitted jacket. With that in mind, we suggest you shake things up a bit by keeping the silhouette as is, but changing the actual pieces. Instead of that fitted jacket with wide leg pants try a floor length skirt with the same jacket. Love your hourglass look, which is usually in the form of a dress, how about you try a pair of fitted cropped pants with a turtleneck worn over the pants and synched with a belt.Same silhouette, different look…

---