10 Unsuccessful Celebrity Businesses || At Least They Tried
Being a powerful star doesn't automatically mean that you will succeed at everything. These ten celebrities were unsuccessful at their side businesses, it may have been a bad idea, or simply not the right idea at the right time.The truth is, had they not tried they wouldn't have known…
1 || Oprah's Oxygen Network
in 1998 Oprah Winfrey invested heavily in the Oxygen Network her answer to the Lifetime channel.The network never really took off, and is now rebranded as a crimes and investigation channel.The superstar's channel OWN (Oprah Winfrey Network) isn't fairing any better with disappointing ratings, but is still alive and kicking.
---


2 || Blake Lively's Preserve
There was much fanfare made about Blake Lively's e-commerce site www.preserve.com, including a Vogue USA cover story to mark the occasion.Preserve was a platform highlighting artisanal fashion items, linking users with makers.The site lasted for less than 18 months.When asked the actress stated : "We have an incredible team of people who do beautiful work, but we launched the site before it was ready, and it never caught up to its original mission: It's not making a difference in people's lives, whether superficially or in a meaningful way."

---


3 || Fashion Cafe
It couldn't get more powerful, Christy Turlington, Claudia Sciffer, Elle Macpherson and Naomi Campbell joined forces to create the Fashion Cafe.A few years into the venture and it was still struggling to gain momentum, which forced the supermodels to shutter the venture.

---


4 || Planet Hollywood
Sylvester Stallone, Bruce Willis, Demi Moore and Arnold Schwarzenegger tried their hand at the restaurant business as well.The success of The Hard Rock Cafe perhaps encouraged them to get a piece of the lucrative pie.What started off strong eventually flat-lined and the actors were forced to sell.

---


5 || Kanye West's Pastelle
West's first attempt at fashion was not as successful as his second, Yeezy. In 2009 Kanye launched his first fashion label Pastelle.The brand didn't last more than a month after which the full line was cancelled.

---


6 || Jennifer Lopez' Madre's Restaurant
It is indeed hard to believe that a Jennifer Lopez restaurant would fold, but it did.Her Latin restaurant Madre's hoped to recreate traditional Latin recipes from J Lo's childhood.After its initial success in Pasadena California, the restaurant experienced a downward spiral and closed its doors in 2008.
---


7 || Eva Longoria's Beso and SHe Restuarant
Eva Longoria has two restaurant closures not one.Her famous Beso restaurant on Hollywood Boulevard closed down after more than 8 years in the business last June. During that time she had also partnered with Morton's on a ladies only steakhouse in Las Vegas named SHe, which was closed to the public two years later.

---


8 || Kim Basinger's Braselton
Not content with owning a restaurant, Kim Basinger went all out and purchased a town in Georgia named Braselton.Her $20 million dollar investment hoped to turn the quaint town of 7000 inhabitants into a touristic destination featuring movie studios and even a festival.Unfortunately the project folded before it opened.Kim is reported to have sold the town for $1 million a few years later.

---


9 || Natalie Portman's Vegan Shoes
Natalie Portman is an animal rights activist, so much so that the actress invested in a vegan shoe line with shoemakers Te Cesan. The shoes that retailed at around $250 were unsuccessful and shortly thereafter discontinued.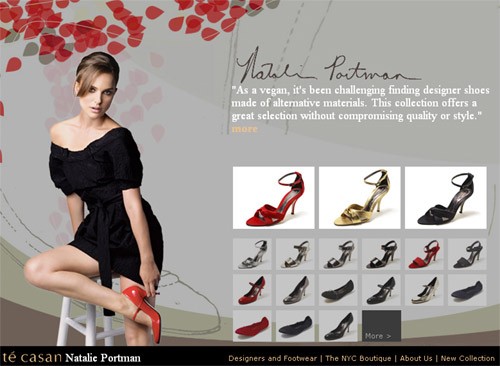 ---


10 || Steven Spielberg's Dive!

Even Steven Spielberg is unsuccessful at some stuff too. His submarine-themed restaurant Dive! served, you guessed it subs…The quirky submarine facade and 'dives' every 30 minutes where sirens and lights go off while commands of 'Dive!' echo around the dining room weren't enough to keep the customers coming.
---